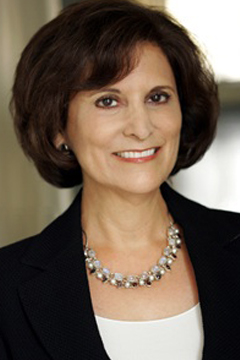 Jeanne Meister is an internationally recognized leader in creating innovations in the operation and management of an enterprise learning function. Jeanne's expertise spans the development of a best practice corporate university to the creation of innovative social networks for learning.
Jeanne Meister's newest book,The 2020 Workplace: How Innovative Companies Attract, Develop, and Keep Tomorrow's Employees Today, co-written with Karie Willyerd, was published by Harper Collins in May 2010, and is now in its second printing! The book is available for purchase at all major book retailers.
Jeanne Meister is a co-founder of Future Workplace, an organization with a shared vision for re-imagining the current state of corporate learning & human resources development and helping to prepare companies for the 2020 workplace.
You can also visit Jeanne at her blog, New Learning Playbook, tracking innovations in recruiting, developing and motivating new employees.
Recently, Jeanne was nominated and selected by her peers as "one of the top 20 most influential training professionals" by TrainingIndustry. Jeanne is a visionary thought leader, speaker, author and executive coach working with Chief Learning Officers and Presidents of for-profit universities in their quest to create award winning learning and development solutions, customized degree programs and industry specific certificate programs for market segments.
Jeanne is also a highly acclaimed keynote speaker at business conferences and industry symposia worldwide. Her visionary insight and experience in designing high performing learning organizations make her sought after by business, government and higher education audiences.
Jeanne welcomes you to this site to learn more about how her knowledge and expertise can add value to your organization. Feel free to email Jeanne at jeanne@jeannemeister.com and start a dialogue with her.
---
The 2020 Workplace Wins Axiom Award Bronze Medal
We have exciting news to share! The 2020 Workplace, co-authored by Jeanne C Meister and Karie Willyerd, has won the 2011 Axiom Business Book Award Bronze Medal in the Human Resource Category!
The Axiom Business Book Awards are presented annually to "exemplary business books" in 21 categories, and we are very proud to have received this honor!
---
Five Generations @ Work: Findings From A Global Survey Of 2,200 Working Professionals
Future Workplace assists organizations in re-thinking, re-defining and re-imagining their corporate learning & talent management strategies to prepare for the 2020 workplace.
Future Workplace leverages its global research among 2,200 working professionals to understand the changing needs, expectations and requirements of multiple generations of employees.
---